Wake County parks are going digital to make sure residents can access programming—even while they stay at home.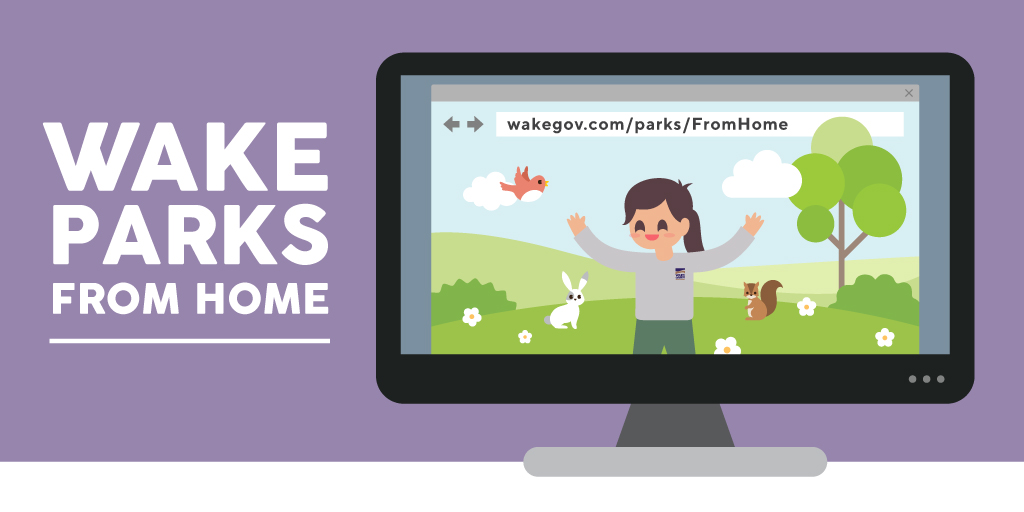 "While our parks are still open, we canceled all public events and programs in response to COVID-19," said Chris Snow, director of Wake County Parks, Recreation and Open Space. "Park staff really wanted to find a way to reach people through educational activities, and they've come up with some innovative ways to do so."
So they launched a new initiative—Wake Parks from Home. Participating parks include Blue Jay Point County Park, Crowder County Park, Historic Oak View County Park and Historic Yates Mill County Park. More parks will add programming soon.
Examples of current offerings include:
Special videos hosted by park staff: Watch "Artifact Spotlights" from Historic Oak View County Park, "Tuesday Tidbits" from Blue Jay Point County Park and more!
Animal Tracks and Signs Bingo from Crowder County Park: Use the printable bingo cards provided to explore signs of animals in your own backyard.
Goat Barn Maze from Historic Oak View County Park: Help Felix his way to Leroy.
Nature Scavenger Hunt from Historic Yates Mill County Park: Explore your backyard and search for critters and plants.
Eastern Painted Turtles Activities from Blue Jay Point County Park: Have fun with art projects and word finds.
New activities are being added regularly, so visitors are encouraged to check back often! Updates will posted on the parks' social media channels as well.
Several Wake County parks and preserves also offer mobile tours. The tour will show you a map of the property and indicate significant features and interesting spots to see. When you get to each point, you'll have access to text, audio, photos and/or videos.
Wake County Parks COVID-19 Response
Wake County parks and preserves are open during the Stay-at-Home order. Visitors must comply with all regulations set forth in the proclamation, including maintaining physical distance of at least six feet from any other person, with the exception of family or household members—even when outside.
Wake County parks are working to make this possible by limiting the number of people allowed in the park at one time. If a park's gate is closed or cones are blocking the entrance, that means it has reached capacity. Parks that are run by towns or cities may be operating differently—residents should reach out to them directly before visiting their parks.
Staying Updated
Wake County has made it easy for you to stay updated on the latest information about COVID-19.
You can visit our COVID-19 webpage, which has a set of frequently asked questions to educate residents in English and in Spanish, a list of COVID-19-related closures and service changes, as well as an email address and phone number that people can use to ask personal health-related questions about COVID-19.

The county is also sharing important information on its Facebook, Twitter and Instagram accounts.